Often, when visiting my mother's grave in the Green-Wood Cemetery, I take my time and walk around the vicinity in meditation. Last year, on one of those walks, I happened upon what appeared to be a family lot with several monuments. At the center of the lot stood a dark gray obelisk with several marble markers surrounding it. It wasn't an especially sunny day, so the marble headstones blended into the old hill upon which they stood. But the obelisk, oh it stood out, it stood out for many reasons.
The dark color of the granite illuminated the monument at the foot of the hill and its height focused my attention away from dwarfed markers. And as I approached the stone and read its inscription, my curiosity was tingling with excitement. There are hundreds of obelisks that dot the cemetery grounds, some are more elaborate than others, many record entire accomplishments of men to whom they are raised, but very few bring awe to my being than those six lines that were etched upon this particular obelisk. I read:
JANE CUMMINGS
born a slave on the
Island of Santa Cruz,
died December 29th, 1861
Aged 73 years.
——
"Asleep in Jesus blessed sleep".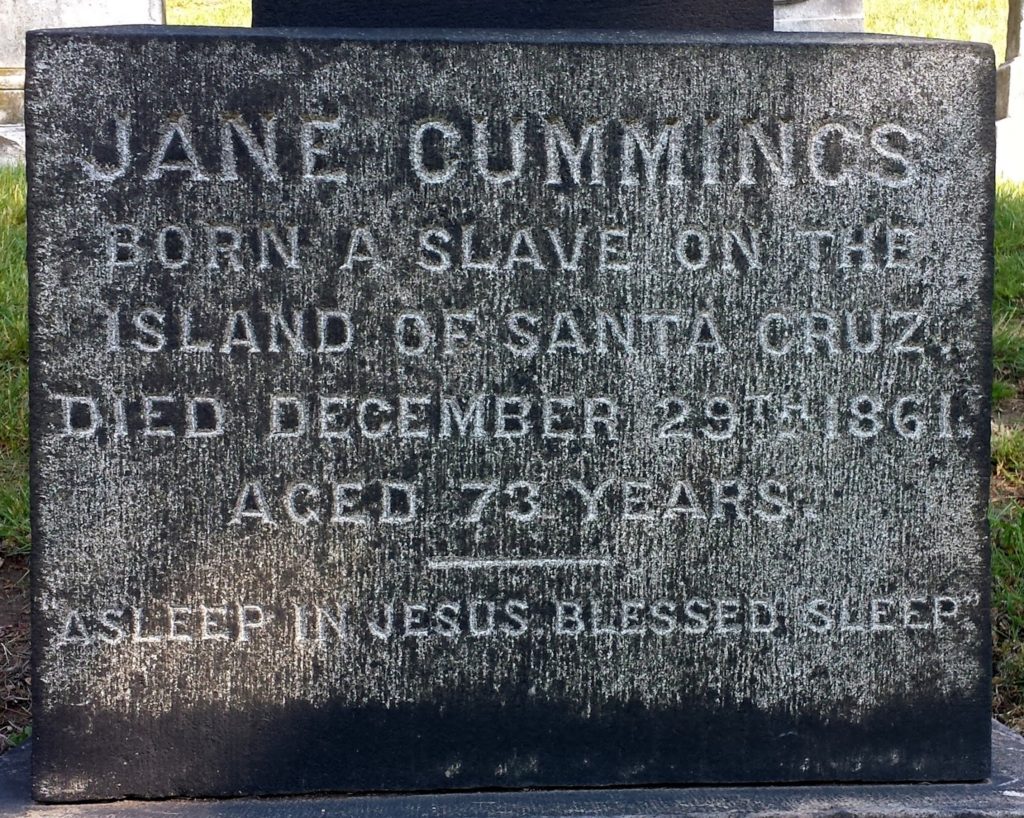 Here they were, these six lines, dedicated to a memory of a woman. Not just a woman, but one who was born a slave. And yet, having died the same year when the Civil War was gaining momentum, this woman has an obelisk to her name. I had to learn more about Jane Cummings, and so, as I often do in such situations, I dived into the pages of history.
According to the records at the cemetery office, Jane Cummings died in New York at the age of 71 years, 10 months, 19 days. Calculating back from her date of death, we obtain her date of birth as February 10, 1790. Her place of birth was listed as West Indies, which is where the Island of Santa Cruz is located. Known today as Saint Croix, it is part of the American Virgin Islands.
At the time of her burial, Jane Cummings was a widow, but no other persons with surname Cummings buried with her, so we do not know the name of Jane's husband—yet. Though her marital status is a clue to any genealogist, it's another revelation that is of note, and it is that Jane was the recorded sole purchaser of the lot where her remains now rest.
On January 2, 1851, Lot 4510 in Section 55 was purchased by Jane Cummings, whose residence was registered as "L. B. Loder 83 Cedar". The residence was actually Lewis B. Loder's store, where he conducted his business as merchant, located on Cedar Street, New York between Broadway (the American Exchange National Bank) and Nassau Street (the Bank of Commerce). The relationship between Cummings and Loder was not apparent until the former's will is referenced.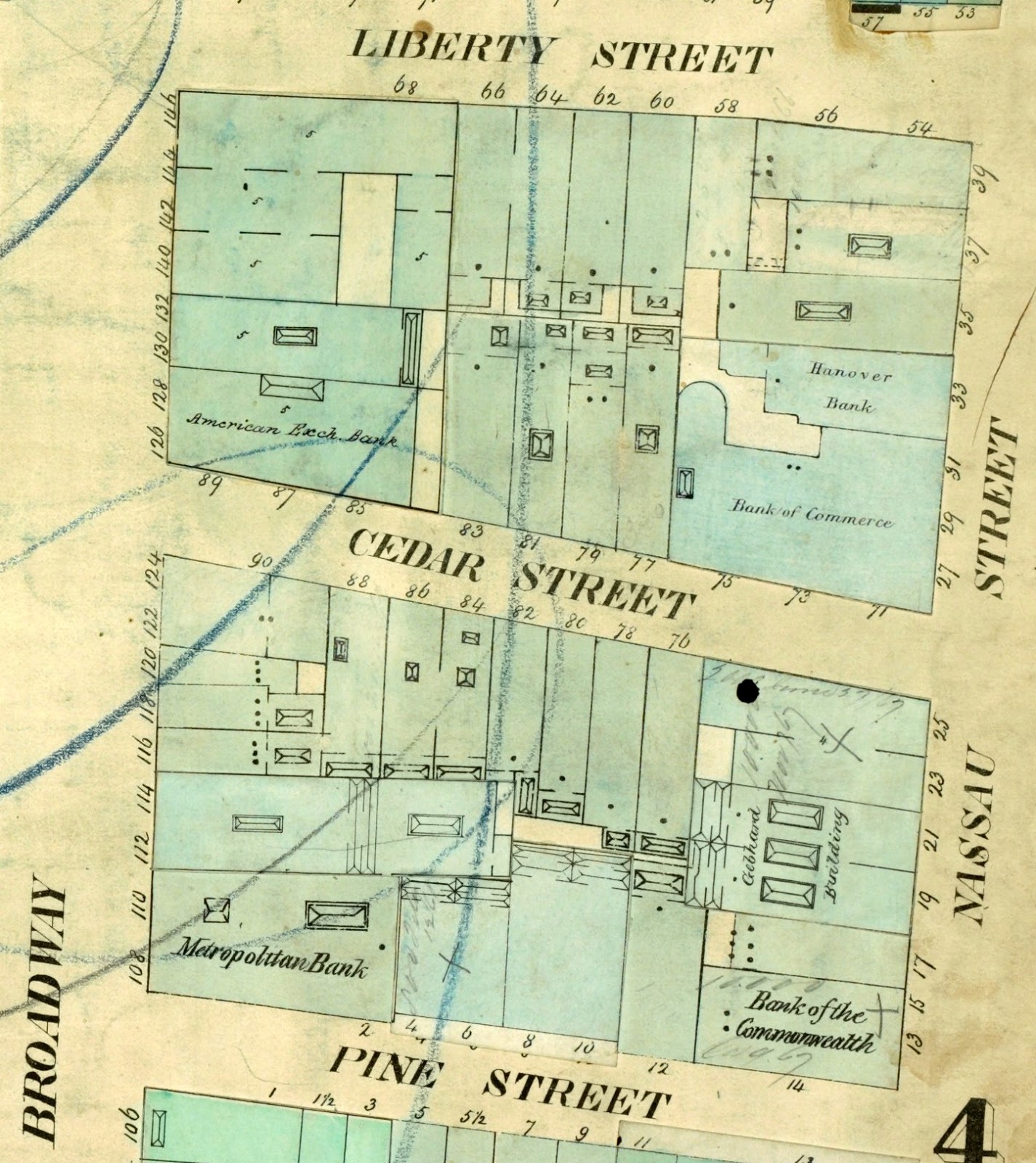 On January 7, 1862, Cyrus W. Loder, one of the Executors of the Estate of Jane Cummings, appeared before Silas D. Gifford, Judge of the Surrogate Court of Westchester County and "made application to have the said last Will and Testament which related to both real and personal estate proved and on such application the Surrogate did ascertain by satisfactory evidence that their [sic] were no heirs nor next of kin of the said testatrix." On March 12, 1862, Letters of Testamentary were issued to Lewis B. Loder and Cyrus W. Loder, Executors of Jane Cummings' Estate.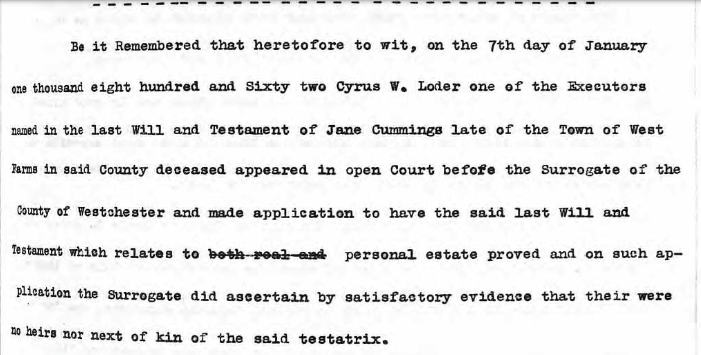 Surrogate Court, Westchester County, New York, Wills 1861-1862, Volume 43-44, page 229 (ancestry.com)
From the excerpt of probate records above, we gain several important pieces of information about Jane Cummings. First, Lewis B. Loder was one of the Executors of Jane Cummings' Estate. Second, she was the late resident in the Town of West Farms, which is currently a neighborhood in the Bronx, New York. Lastly, Jane Cummings did not own any real estate property nor did she have any surviving blood relations. But Jane Cummings did not die in poverty or alone. In fact, as one reads the rest of the probated records, it becomes clear how well off the late Mrs. Cummings was in both her monetary fortunes and number of friends. The Last Will and Testament of Jane Cummings was registered on December 3, 1856, and in it she gave and bequeathed unto her friends:
John Munday the sum of $100
Amelia Munday = $100
Eliza Graham = $100
Phebe Lockwood = $100
Christina Reta = $100
William Jenkins = $200
Jane Jenkins = $100
Edward Clark =$200
Sally Sinclair = $100
Jane Munday = $400
Thomas Macfarlane Senior = $250
Daniel T. Macfarlane = $250
Samuel T. Thorpe = $100
John W. Thorpe = $100
Mary Elizabeth Westfield = $100
Catherine Ann McKinley = $100
American and Foreign Anti Slavery Society = $500
Catherine Ann, wife of Lewis B. Loder = $2000
Sarah Amelia, wife of Cyrus W. Loder = $2000
Missionary Society of the Methodist Episcopal Church, formed in New York in 1819 = $1200
Mary Matilda, wife of Noah Loder = $300
Henry Day Loder = my large Bible
Albert Jared Loder = my Mantle Clock
Jane Jenkins, Jane Munday and Sally Sinclair = all my clothing and Bedding
Lewis B. Loder and Cyrus W. Loder = all the rest residue
A tally of amounts between numbers 1 and 21 above brings the total of bequethed moneys to $8,400. Now, that's $8,400 in 1856, when the will was written. In her will, Jane Cummings calls everyone a friend. We know these individuals are not blood relations, so that her explicit mention of them and bequeathals indicate her high regard for them. It will be necessary to write a separate blog post about specific relationships between Jane Cummings and every person mentioned in her will.
In the meantime, her bequeathals of $500 to the American and Foreign Anti Slavery Society (no. 17) and $1200 to the Missionary Society of the Methodist Episcopal Church (no. 20) are worth noting. I have to learn more. Time for me to dive back in the pages of history.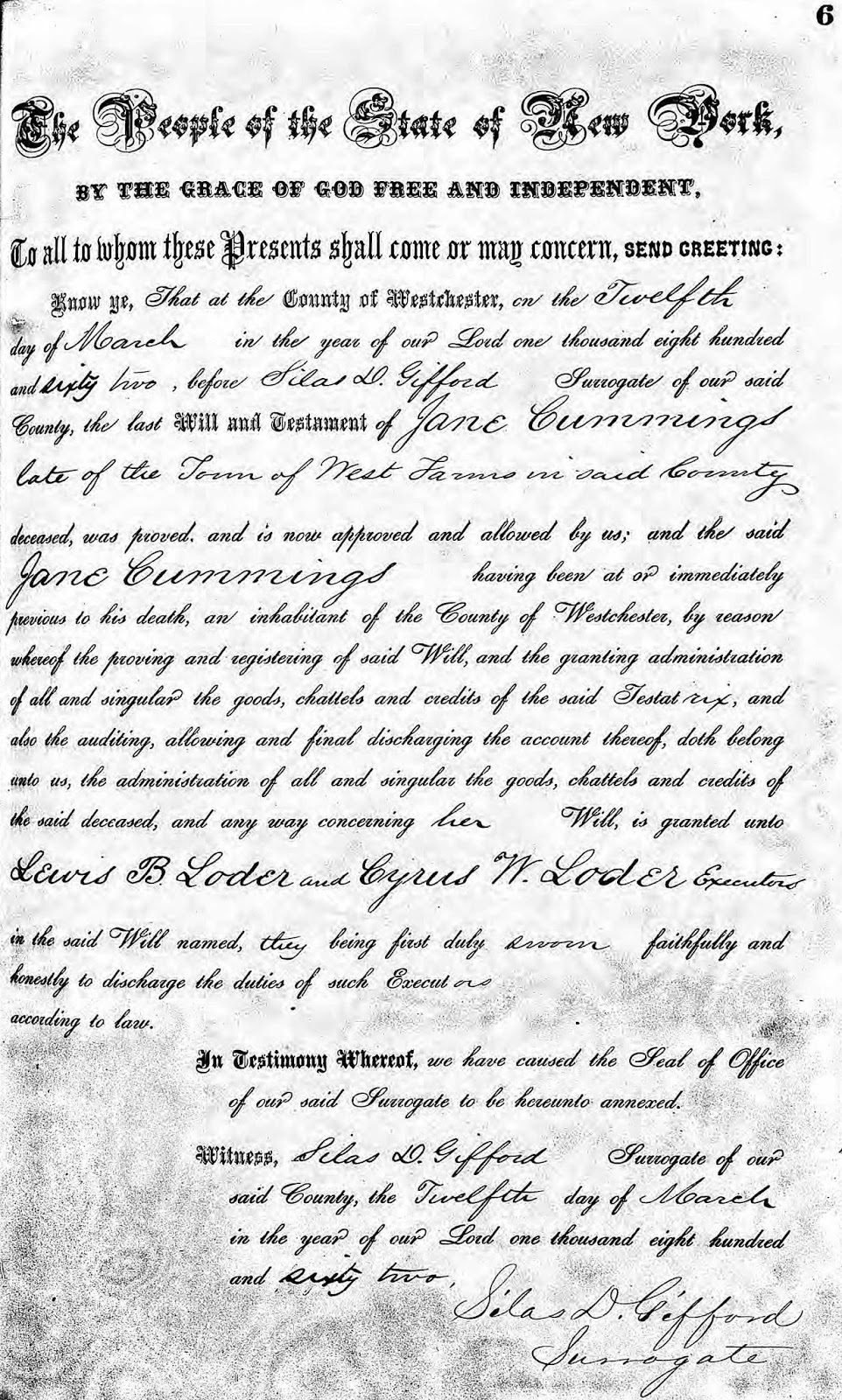 Westchester County, Letters of Testamentary, Volume G-H, 1862-1868, page 6 (ancestry.com)